.
writers.ink
came into being on August 17, 2005 with the launch of Syed Waliullah's Tree Without Roots. Formed to publish mainly creative writing in English or in English translation, writers.ink also plans to publish biographies and autobiographies as well as English language textbooks and scholarly works on language and literature

.


Site Search:
Search with " " to get proper search result, example "Bengal Raag"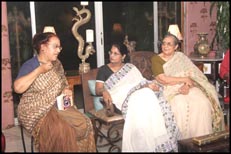 Discussion of A Different Sita, on Thursday, June 28, 2012arranged by Monsoon Letters.
More +